The ACAWAI-CS project is based at the Institute of Near Eastern Archaeology of the Freie Universität Berlin. It started in November 2020 at the Institute of Near Eastern Archaeology of the Ludwig-Maximilians-University (LMU) in Munich and continued from October 2021 to September 2022 at the Institute of Ancient Near Eastern Studies of the Julius-Maximilians-University (JMU) in Würzburg. The project receives funding from the eHeritage programme of the German Federal Ministry for Education and Research (BMBF, FKZ: 01UG2041X). From its beginnings, Adelheid Otto, chair of Near Eastern Archaeology at LMU Munich and renowned specialist of cylinder seals, supported the project. We gratefully acknowledge technical support from the LMU IT-Gruppe Geisteswissenschaften and the JMU Zentrum für Philologie und Digitalität.
ACAWAI-CS is headed by Elisa Roßberger, a Near Eastern archaeologist with a research focus on the Bronze Age cultures of ancient Iraq and Syria. Her vision is to integrate the rich information we gain from artefacts, images, and texts in digital space — accessible, searchable, and interoperable for all.
Anna Kurmangaliev is the second Near Eastern archaeologist in the team. She specialises in the iconography of Mesopotamian gods and goddesses. In her function as supervisor for all data entry, Anna will spot every mistake in a spreadsheet at a glance.
Albert Dietz joined the project in November 2021. With his recent PhD on the iconography of ancient Near Eastern storm-gods (LMU Munich 2020) and his keen interest in everything visual & digital, he perfectly fits into the ACAWAI-CS team of seal aficionados.
Cuneiform specialist Nathan Morello was part of the project team in 2021. He took care of turning Sumerian and Akkadian seal inscriptions into something readable and searchable by archaeologists (!) and machines alike.
Matan Atad, computer scientist and TUM graduate student in Artificial Intelligence/Machine Learning joined ACAWAI-CS already in its inital stages. His specialist knowledge allows us to move faster and in an increasingly automated manner through the extraction of named entities from texts and the annotation of images. He introduced ACAWAI-CS to the world of machine learning and object detection making tedious manual processes more efficient and fun.
Computer scientist and game engineer Hanieh Arjomand-Fard oversaw the the project's data management in 2020 and 2021. With the project's move to Würzburg, Herbert Baier and Kevin Chadbourne took over her tasks, slowly steering the project's digital infrastructure into the adventurous seas of Semantic Web Technologies and Linked Open Data.
Our student assistants, Marco Wolf, Anna Schellkopf, Elena Sher, and Lisa Hlavica were/are in charge of data entry on all aspects (material, visual and textual) of seals and seal impressions. Without their work, the ACAWAI-CS database would not exist! 🙏
What was DigANES?
The aim of the DigANES-project was to develop a "Concept for the Digitization and Labeling of Ancient Near Eastern Seals and Sealings". Funded by the German Federal Ministry of Education and Research (BMBF, FKZ 01UG2041X) and carried out at the Institute of Near Eastern Archaeology at LMU Munich, it was successfully completed in November 2017. Data entry continued during 2018 and 2019 with a focus on Babylonian second millennium BCE seals and sealings. The full DigANES-project report is available here.
The database and Linked Open Data concept developed in the course of DigANES will be implemented now in the "Annotated Corpus of Ancient West Asian Imagery: Cylinder Seals" (ACAWAI-CS). We thank all contributors to DigANES for their great work! It will proof essential for the years of digitization and semantization of ancient West Asian imagery that lie ahead of us.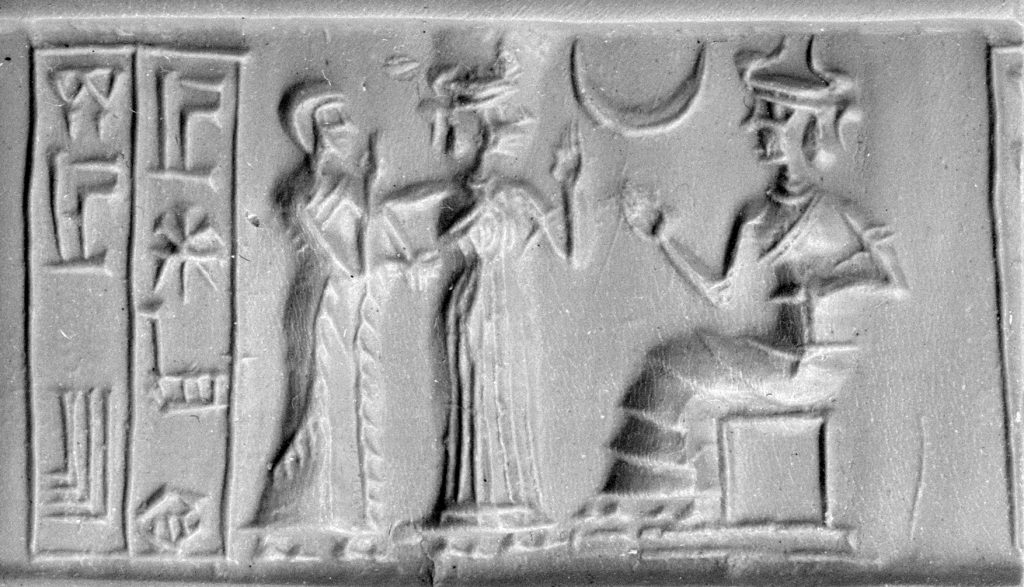 A goddess in a flounced dress with one hand raised and the other grasping the wrist of the person following behind — like in the logo (drawn by A. Kurmangaliev) at the top of this webpage — typically introduces humans to enthroned gods and goddesses on late third and early second millennia BCE cylinder seals (modern roll-out of BM 129488 photographed at the LMU Institute of Near Eastern Archaeology and two seal impressions from Isin drawn by C. Wolff, LMU Isin Archiv).